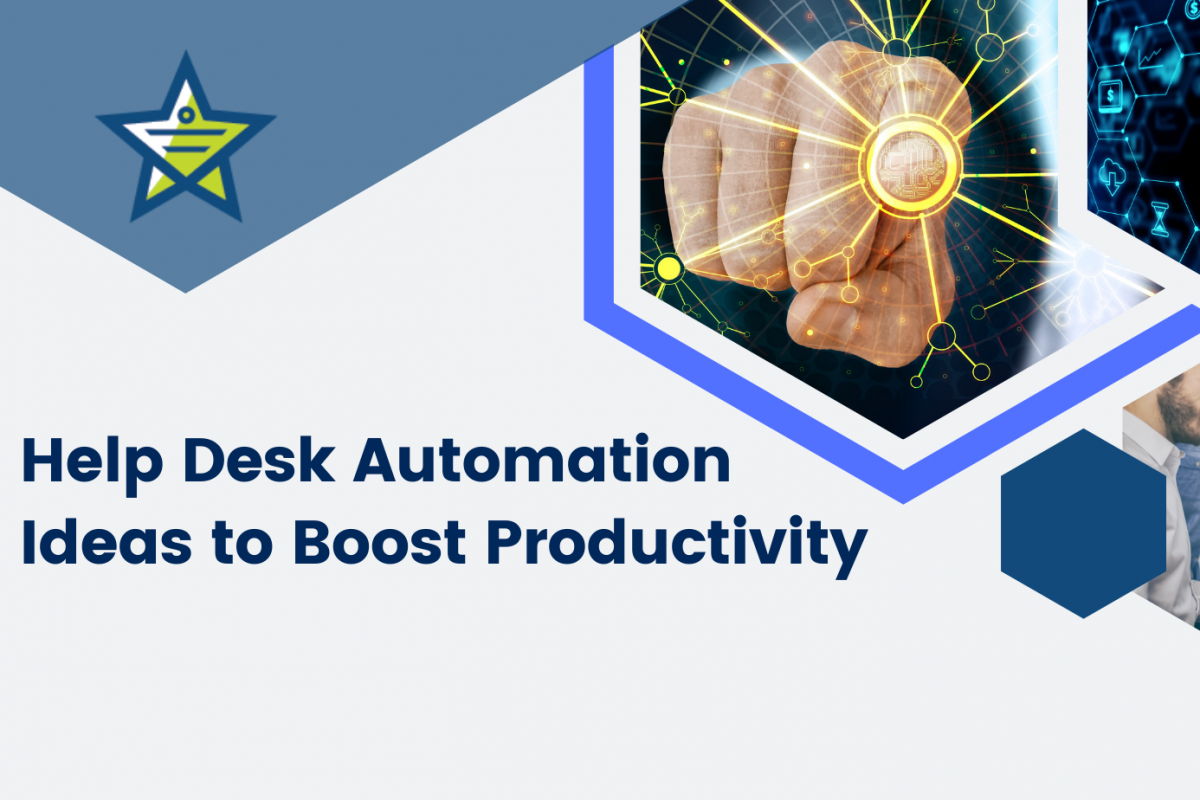 Help desk automation ideas such as automated ticket processing and communication can increase customer satisfaction, decrease costs and boost agent productivity. The most efficient companies automate help desk tasks without losing the human element. This guide discusses the benefits and challenges of automation, plus lists ten help desk automation ideas that boost productivity.
Help Desk Automation Ideas: Quick Overview
Get started with these help desk automation ideas or scroll down for more detailed explanations. 
| | |
| --- | --- |
| Automation | Description |
| Ticket Processing | Automatically tag, categorize and assign tickets to the right agent. |
| Communication | Instantly respond to customer inquiries and automatically centralize communications from all channels. |
| Self Help | Automate onboarding, account management, password resets, and knowledge base support. |
| Alerts and Notifications | Notify customers and agents about ticket updates. |
| Feedback Requests | Automatically follow up with customers to request feedback. |
| Customer Service Metrics | Automatically track and report on KPIs. |
| Time Tracking | Account for every billable minute. |
| SLA Monitoring | Automatically assign due dates and track performance. |
| Asset Management | Manage and track assets. Send automated reminders about contract and warranty expirations. |
| Integrations | Automate custom actions via integrations with Google Apps and Zapier. |
Benefits of Help Desk Automation
Companies that implement proven help desk automation ideas enjoy the following benefits.
1. Increased Productivity
Agents can get bogged down with simple, routine support requests that monopolize their time, drive costs up, and force customers to wait for help. Help desk automation eliminates those problems by giving customers the fastest path to support and frees up agents to focus on resolving more complex issues. Forrester reports that 68% of companies say automating routine tasks improves the operational efficiency of their customer service departments, and 66% say automation improves agent productivity.
2. Improved Customer Satisfaction
Help desk automation speeds up response times and quickly routes tickets to the most appropriate agent, improving overall customer satisfaction. Getting customers the exact help they need lends a personalized touch. In fact, 61% of companies that blend automation with human agents say they have improved customer satisfaction by providing personalized experiences. It's no wonder, then, that 42% of brands believe automation technologies will improve the customer experience more than any other initiative, including data analysis (41%), virtual reality (39%), and chatbots (32%).
3. Decreased Costs
Automating simple processes such as password resets pays big dividends. If a customer service department fields 100,000 tickets in a year at $20 per ticket, automating 20% of those tickets could yield $400,000 in annual savings. Moreover, 59% of companies say blending automation with human agents increases customer retention rates, boosting the lifetime value of their customers for greater profitability. 
4. Happier Customer Service Agents
An avalanche of support requests can overwhelm even the most productive customer service agents, especially when they're buried in simple tickets and unable to help customers with more complicated problems. Since help desk automation ideas such as autoresponders, self-help solutions, and intelligent ticket processing reduce total volume, agents can close tickets fast and stress-free. Indeed, 69% of companies that introduce automation to their workflows report increased customer service agent satisfaction. 
10 Help Desk Automation Ideas that Boost Productivity
Implement these ten help desk automation ideas to boost productivity and provide world-class customer service.
1. Automated Ticket Processing
Automatically route tickets to the correct representatives depending on the ticket source, topic, or keywords. Automated help desk software can categorize and tag incoming tickets, then assign them in a round-robin or load-balanced method. These tools enable users to create custom workflows with rules for ticket escalation, closing aged tickets, and user access. 
Ticket processing automations include:
Intelligent ticket assignment
Categorizing and tagging
Prioritization based on ticket urgency
Aged ticket closure
Group access rights
2. Automated Communication
Agents can waste time monitoring multiple channels and sending custom responses for every support request. Help desk tools can reclaim lost time by automatically centralizing communications from every channel (online forms, email, text, Facebook, Twitter, and social media).
Autoresponders let customers know their support requests were received and can automatically suggest knowledge base articles for instant support. Some help desk software allows agents to access customer profiles and support histories in a single location, so they don't need to spend time searching for previous requests. Agents can also load pre-written canned responses to automatically send the best answers to common support queries.
Communication automation ideas include:
Omnichannel centralization
Autoresponders
Customer profiles and support histories
Canned responses
3. Self-Help
Self-help features automate customer service, making it quick and easy for customers to get the answers they need without human intervention. Automated onboarding workflows, password reset functions, account management capabilities, and searchable knowledge bases improve customer satisfaction and make agents more productive by freeing them to focus on solving complex issues. 
Self-help automation ideas include: 
Onboarding workflows
Account management and password reset
Searchable knowledge base
4. Alerts and Notifications
Fast response times are a hallmark of outstanding customer service and efficient operations, and help desk automations such as instant alerts and notifications can help companies achieve those goals. Customer-oriented businesses can set up triggers to alert customers, managers, and agents about ticket updates, escalations, and closures. 
Alert and notification automations include:
New ticket notifications
Customer reply notifications
Ticket status update alerts
Ticket assignment notifications
Alerts about internal customer notes
Ticket escalation notifications
5. Feedback Requests
Customer feedback lends insight into customer satisfaction and agent productivity, but it takes time to follow up to request customer feedback manually. Help desk software can automate feedback requests by asking customers to rate their service and sending follow-up emails to solicit additional insights. 
Automated feedback request ideas include:
Support rating forms after ticket resolution
Knowledge base article ratings
Survey request emails
Third-party review request emails
6. Customer Service Metric Reporting
Customer service metrics allow businesses to quantify satisfaction and productivity. Help desk software can automatically track and report on KPIs, helping companies measure efficacy, identify opportunities for improvement and ultimately boost productivity.
Automatically track and report customer service metrics such as:
Ticket volume
Resolution rate
Average resolution time
Replies per ticket
First reply resolution rate
Ticket handling time
Tickets per rep
Ticket backlog
Ticket source
Self-service traffic volume
Ticket and knowledge base rating
7. Time Tracking
Time is money, so the ability to track and manage time is vital to every company's bottom line. Some help desk tools include automatic time tracking features that make it easy for organizations to know how agents spend their time and maintain a log of every billable minute if they charge for support.
Automated time tracking ideas include:
Average time spent per ticket
Time spent on each individual ticket
Time spent with each customer or account
Average time spent per customer or account
8. SLA Monitoring
Service Level Agreements (SLAs) help companies meet customer support goals, but it can prove challenging to track performance. Automatic SLA monitoring and reporting is an efficient way to maintain compliance and detect SLA breaches.
Automate monitoring for:
Response SLAs
Resolution SLAs
Issue-based SLAs
9. Asset Management
The more companies grow, the more difficult it is to manage assets such as laptops, smartphones, printers, cars, tools, contract licenses, and warranties. Spreadsheets require a lot of manual entry, but help desk automation tools can increase productivity by automatically assigning and tracking hard assets and sending notifications about soft assets. 
Asset management automation ideas include:
Automatically assigning and tracking company-issued devices.
Maintaining historical service and defect records.
Sending automatic notifications for service contracts and warranty expirations.
10. Integrations
Some help desk software integrates with third-party tools for powerful automation that supercharge productivity. Integrations with popular platforms such as Google Apps and Zapier enable custom workflows. Examples include adding deadlines to Google and Microsoft calendars, creating support tickets from Tweets and Facebook messages, automatically generating new Salesforce leads, and creating support tickets from Trello boards. In addition, some tools offer Rest API for custom integrations. 
Thousands of integrations are available for help desk automation, including: 
Google Calendar event invites
Asana project and task creation
Slack reminders
Trello card creation
ActiveCampaign contact note creation
Salesforce lead generation
5 Challenges to Implementing Help Desk Automation Ideas
Forrester surveyed business automation leaders to uncover the following challenges. Here's how to mitigate them.
1. Unreliable Solutions
Seek a help desk solution that's road-tested by millions of users. Read reviews and schedule a demo before deciding which help desk software is best for your company. Cloud-based software offers reliability and redundancy with automated updates and backups. 
2. Oversimplification
In the survey, 76% of respondents said the automation tools they've experienced only performed simple tasks. Automating simple tasks isn't bad because it saves time and money while boosting productivity, but businesses want more out of their help desk software. Seek a solution capable of complex workflows and actively introduces new features to support its users.
3. Slow Response
Don't sacrifice quality for automation, which can have the opposite of the desired effect when it causes slow responses to queries. Leverage automation tools such as autoresponders, alerts, and instant notifications to ensure agents follow up per SLA guidelines.
4. Inability to Replicate Human Touch
It's essential to consider automation as a tool for enhancing customer service, not a replacement for it. All help desk automation ideas should contribute to a better customer experience, finding the fastest path to the help they need. In many cases, that can be done without human intervention; but automated systems must recognize when it's time to bring a live agent on board.
5. Lack of Reporting
Seventy-one percent of survey respondents said that, in their experience, automation tools were unable to track key success metrics. Make sure automation initiatives improve productivity by choosing a help desk solution that tracks and reports customer service metrics.
Businesses that implement help desk automation ideas have significant advantages over their competitors. Automated ticket processing and communication, self-help resources and feedback collection can improve agent productivity, while time tracking, SLA monitoring, and customer service metrics can help businesses gauge overall performance. Asset management and third-party integrations expand automation capabilities. There are challenges to automating the help desk experience, but they can be mitigated by choosing well-designed help desk software. Consider the help desk automation ideas listed here to improve customer satisfaction, decrease costs and boost productivity for your business.
Filed under: Customer service, Productivity