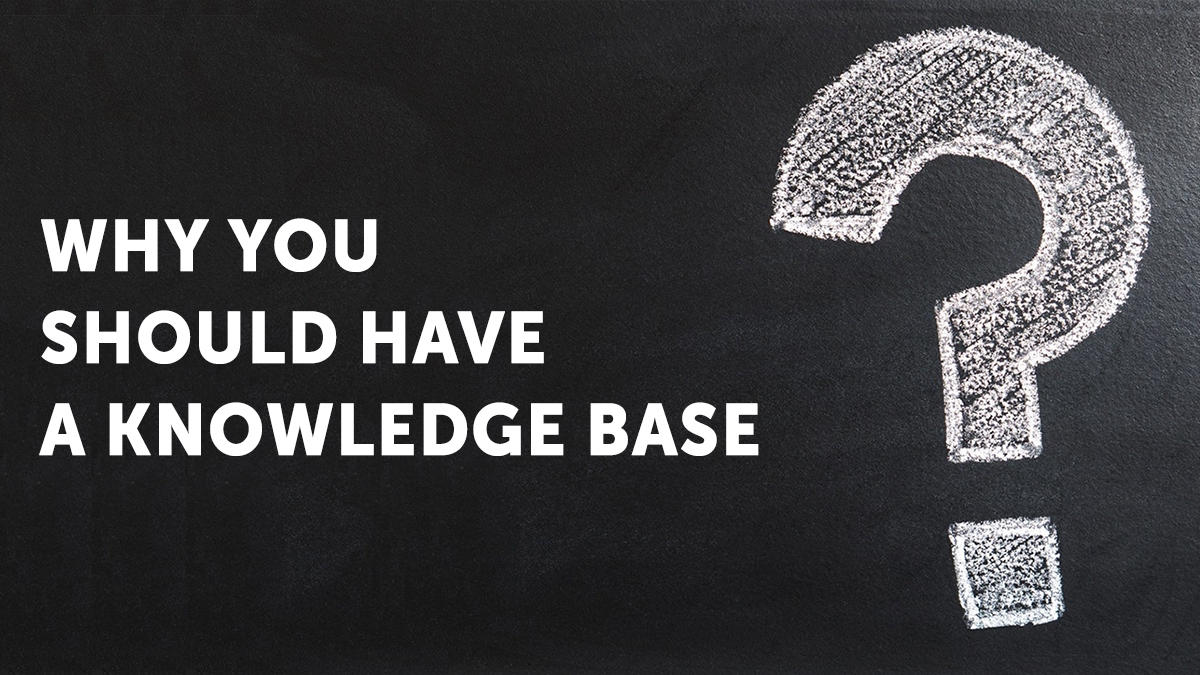 A robust knowledge base can help your organization deliver an outstanding customer experience, improve internal efficiency, and even increase profits. Today's customers try self-help first, and an intuitive knowledge base lends the support they need to continue doing business with your brand.
These statistics underscore the importance of a knowledge base:
They aren't just for customer-facing communications, either. Internal knowledge bases can bolster employee productivity and consistency, both essential for sustained growth. Here's how your organization can reap the benefits of a robust knowledge base, plus tips for creating one that delights your customers and delivers measurable results.
A Knowledge Base is More than an FAQ
By definition, a knowledge base is "a collection of information about a particular subject (Cambridge)." In practice, it's much more than that. It's a tool that not only helps your customers find answers but also improves organizational efficiency and can even play a significant role in marketing.
Much more than a list of frequently asked questions, today's robust knowledge bases can feature:
Guided assistance via articles and manuals.
Interactive media (video tutorials, audio, and images).
Case studies and white papers.
Dictionaries and glossaries.
Downloads and other resources.
It isn't just a central hub for information; it's a valuable resource that educates users and empowers them to act, whether they want to know how to upload photos to your platform, how to connect to your API or how to report a software bug.
Knowledge Base Benefits
A well-maintained knowledge base offers significant advantages for any organization that routinely fields questions, from growing businesses and e-commerce companies to schools and hospitals. 
1. Improve Customer Experience
Customers want help, and they want it now. A knowledge base is always available to instantly answer their questions. If you've identified common bottlenecks on your website, customer portal, or SaaS platform, you can link to your help center to provide context-specific assistance when users need it most. Outstanding customer service makes people happy, fosters loyalty, and improves retention.
2. Reduce Support Requests
A well-designed knowledge base can eliminate many phone, email, and chat support requests, freeing agents to focus on customers who require more complex troubleshooting. When support agents aren't overwhelmed with routine requests, they can provide a better customer experience and achieve higher resolution rates.
3. Lower Costs
Employees are often some of the most expensive resources for a customer service department, and knowledge bases can lower costs by reducing time spent answering routine questions. Savings are found in optimizing what support teams are working on and improving efficiency.
4. Organic Marketing
You can optimize a public knowledge base for search to help potential customers discover your organization. For example, an e-commerce marketing platform might publish an entry on how to connect a shipping app to Shopify. It's an opportunity to introduce a target market to a non-competitive, yet relevant service they might need, and a chance to foster trust along the way.
5. Increase Revenue
Though knowledge bases are designed to help customers find answers, they also present opportunities to increase revenue via upsells. For example, a photographer might want to know how to apply a visual effect to an image. An entry could walk them through the process, then introduce a paid plugin that automates it. You can even answer pre-sale questions and help convert prospects into customers.
6. Accessibility and Inclusivity
Video, audio, and multi-language features make your knowledge base content accessible to many different types of users. By offering multiple formats, you can cater to different learning styles and provide an inclusive environment.
7. Enhance Internal Efficiency and Efficacy
An internal knowledge base can guide staff to follow established protocols and deliver standardized solutions to common requests. That can improve speed and productivity while reinforcing your brand image. In addition, you can create a resource that automates onboarding and training to reduce overall costs.
8. Learn Valuable Insights
Your knowledge base software can lend powerful insights into customers' needs, and help provide data on the best way to meet those needs. You can track the terms users search to identify information gaps, view the pageview statistics to see the most popular entries and allow users to rate articles so you know where you need to improve. 
How To Create a Knowledge Base That Works for You and Your Users
Thoughtful planning can help you develop an effective knowledge base. Here is a roadmap that will help get you started and help along the way.
1. Decide what content you need
Fill your knowledge base with content inspired by:
Customers frequently asked questions.
Customer service and support agent input.
Common pre-sale questions.
Organic keyword searches you find via research tools.
Internal keyword searches conducted by website visitors.
Technical processes.
Competitor knowledge bases.
2. Offer Multiple Learning Formats
Use rich content that caters to multiple learning styles and makes your knowledge base inclusive. Videos and images can accompany articles, which can be translated into different languages and delivered in both text and audio formats.
3. Organize Intuitively
Organize your entries within an intuitive hierarchy that helps users quickly find answers by categories, subcategories, and tags. Think of it as a natural winnowing process that simplifies your presentation.
4. Make it Searchable
Add a search function so users don't need to sift through categories to find solutions. Consider features such as predictive search and autocomplete to streamline the experience. Your knowledge base is a mini-Google, so include keywords that match entries to user queries.
5. Regular Updates
Keep your knowledge base updated with new content and revise old content for accuracy. It's a living document that evolves alongside your organization. An outdated help center creates confusion and frustration, provokes support calls, and defeats the purpose.
6. Analyze Usage
User ratings, pageview statistics, and keyword searches help you discover gaps and develop new content that meets user demands.
7. Consider Knowledge Base Software
Robust software will allow you to build a well-curated knowledge base with built-in search, rich content, and analytics features. These tools save time and deliver a consistent experience that stays true to your branding. 
The importance of a robust knowledge base can't be understated, but building one isn't a trivial task. You need to develop, organize, and deliver useful content accessible to many different types of customers and inquiries, limit the burden placed on support staff, and cultivate valuable insights your organization can leverage for growth.
Thoughtful planning coupled with the right knowledge base software can simplify the process, so you can create a resource that enhances the customer experience, improves efficiency, and even increases profits for your organization.
Filed under: Customer service