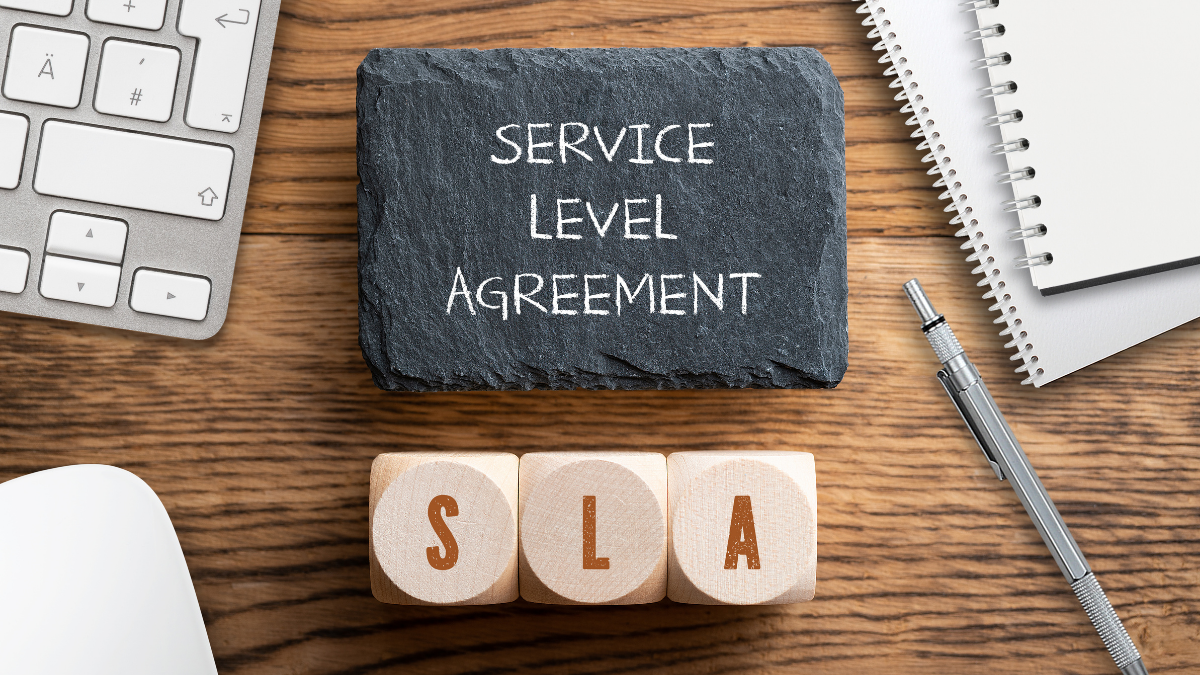 Understanding an SLA, Service Level Agreement, is extremely important when providing excellent customer service. Service-based businesses should constantly be thinking about how to satisfy their customers' needs. To do this you have to know what your customers' expectations are and how your team needs to operate to meet those expectations. The best way for a service business to know and reach their customers' expectations is by using SLAs.
Types of Service Level Agreements
SLAs are an effective tool for setting customer expectations as well as for holding service providers accountable for meeting those expectations. SLAs are contracts between customers and service providers which specify the minimum expected service standards when it comes to availability, timeliness, and quality. SLAs specify the amount of time the business has to respond and resolve different types of issues raised by customers. Generally speaking, there are three primary types of SLAs:
Response SLAs
Response SLAs set an acceptable amount of time for the business to respond to communications from customers. These SLAs are important because when customers know that a representative is investigating their issue, they are more content as they wait for a resolution.
Resolution SLAs
While response SLAs set a timeline for responding to customers, resolution SLAs determine how long the business has to resolve the customer's issue. Resolution SLAs ensure that customer issues get resolved, not just responded to.
Issue-based SLAs
For many customers, some issues are much more important than others. For example, if the service being provided goes down or has an outage, this issue will have its own Issue-based SLA. Issue-based SLAs ensure more urgent responses and resolutions for the highest-priority issues.
The Need for Multiple SLAs and OLAs
As service-based businesses grow, the customers' needs grow in diversity as well as the size and synergies between internal teams. When this growth occurs, you will have to use multiple SLAs and may also use Operational Level Agreements (OLAs) internally to meet the demands of all of your different customers.
To ensure that your internal teams can fulfill the SLAs, it's helpful to put OLAs in place internally. OLAs are internal agreements made between different teams within your business that help both departments fulfill client SLAs. For example, if your business provides a resolution SLA with a 72-hour deadline, you might have a 24-hour diagnostic OLA for one of your teams and a 48-hour resolution OLA for the team that implements the solution. Here are examples of when and why you may need multiple SLAs or OLAs:
Multiple Regions
In today's interconnected world customers are often located in different time zones from the service provider. As a result, there is no one-size-fits-all SLA for all of your customers because different business hours across time zones affect the availability of your customer service representatives.
Different Plan Levels
As your business grows you may offer different tiers of service. Your team will need to provide the fastest service for customers who are willing to pay higher rates. For this reason, you will need to offer different types of service plans or SLAs.
Different Commitment Stringencies
Not all SLAs have the same level of stringency or strictness. For example, for larger customers, some issues such as downtime require an SLA with a more stringent commitment whereas for other issues such as routine maintenance a separate SLA is used with a less stringent commitment.
Multiple Projects Running Simultaneously
Some customer engagements involve multiple discrete projects that are run simultaneously. Each of these projects may have unique characteristics and requirements for support. As a result, different SLAs may be needed to address the specific service level requirements of each project.
OLAs
To ensure that your internal teams can fulfill the SLAs, it's helpful to have Operational Level Agreements in place internally. OLAs are internal agreements made between different teams within your business. For example, if your business provides a resolution SLA with a 72-hour deadline, you might have a 24-hour diagnostic OLA for one of your teams and a 48-hour resolution OLA for the team that implements the solution.
Developing multiple SLAs and internal OLAs may seem like a daunting task, but taking the time to map out all the different SLA use cases and responsibilities for each will make this a far easier project. By creating different types of SLAs and coordinating them with your company's OLAs you will be able to improve your company's operations while creating a process that empowers your teams to work more efficiently together.
The Importance of Help Desk Platforms in Fulfilling SLAs
Once your SLAs are in place you must manage your teams' time and track their performance closely to ensure you fulfill the terms of the SLAs. Some businesses make the mistake of trying to manage and track their SLAs manually instead of using a platform to streamline the process. With all of the details involved in carrying out your SLAs, it becomes very difficult to be successful without using the automated tools provided by a help desk.
With the technology offered by a help desk platform, your business can easily manage, track, and report on SLA fulfillment. Here are five specific ways a help desk platform helps automate the fulfillment of SLAs:
Tracking
With a help desk platform, new customers are assigned a customized SLA based on the criteria you select. Then, when a customer opens a service ticket, the help desk automatically begins tracking the time that has elapsed so that you can measure it against the terms of the SLA.
Prioritization
A help desk can manage SLAs by automatically routing open tickets to the best representative available. Tickets can also be prioritized automatically by the help desk based on how close they are to meeting their deadline. Tickets that are nearing their deadline are given higher priority automatically.
Notifications
Help desks automatically notify your team that an SLA deadline is approaching. By enabling notifications, a representative on your team can shift from their current task and resolve the expiring task from the notification to avoid a breach of the SLA.
Escalation
If an SLA is breached, you must take swift action to keep your customer satisfied. A help desk platform automatically escalates tickets that have breached the SLA and assign them to a supervisor to ensure a quick resolution.
Reporting
Help desks provide comprehensive reporting features that allow you to drill down and assess performance. Reporting allows you to see where your teams are exceeding SLA expectations and where they are breaching them. Knowing these insights allows you to make adjustments to your fulfillment processes so that you can optimize your overall performance.
SLAs are important to have in place to help drive client success and provide the best service possible. When customers and service providers are aligned on the specifics of the services that are being provided in regards to availability, turn-around time, and the quality expected, there are no surprises and it is much easier to build a healthy, long-lasting business relationship. Companies that do not use SLAs may be able to function and survive but at the cost of having more internal redundancy as well as client confusion in regards to communication, timelines, and deliverables. Without SLAs teams may not be as productive as they could be, miss fulfilling the clients' expectations, and miss important deadlines. This is why implementing and improving your SLAs will reap long-term benefits throughout your organization.
Filed under: Customer service, Productivity