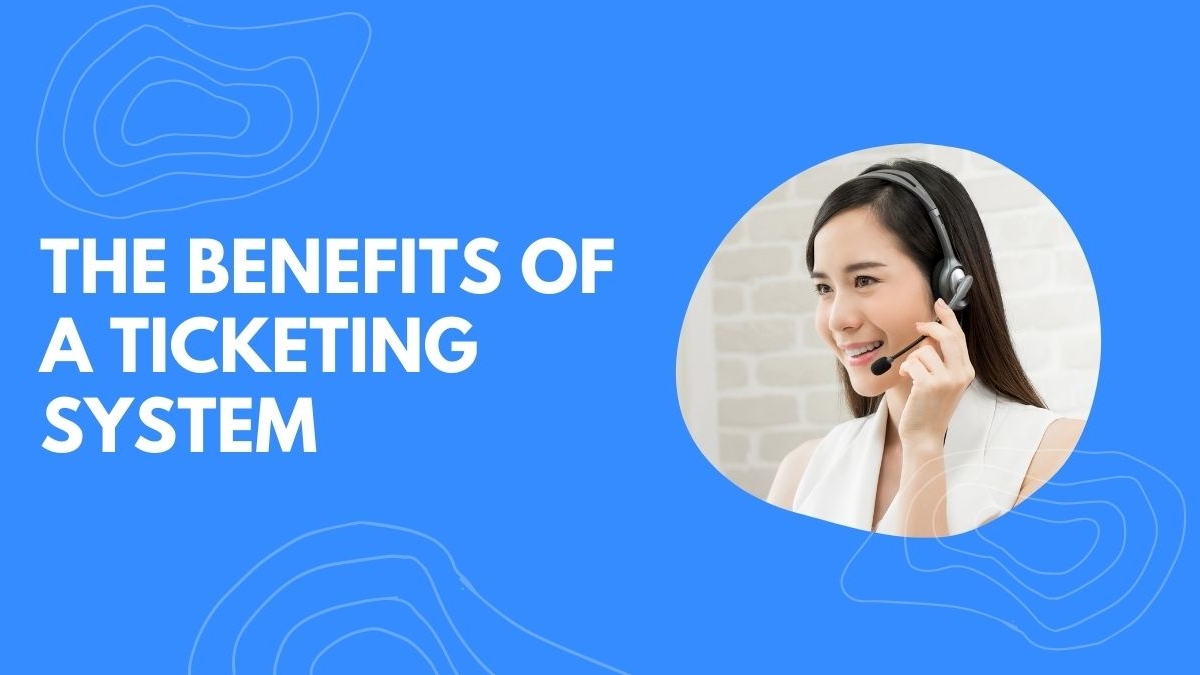 Ticketing software and having an efficient ticketing system make it easy for customers to contact a company and for companies to respond to, track, and manage customer support inquiries. A good ticketing system replaces archaic, inefficient email and phone support with an intuitive helpdesk that centralizes customer requests, automates tasks, and streamlines customer service so your team can get more done faster. In this guide, you'll gain insights into how ticketing software works, plus discover hidden benefits of a ticketing system that can improve your entire organization.
A Ticketing System Simplifies Customer Service
Ticketing software acts as a portal where customers can submit questions (tickets) and customer service agents can respond. Instead of questions and requests being scattered across email, phones, chat, and social media, tickets are automatically organized in a central location, making it easy to resolve customer problems quickly.
The best ticketing systems offer these features:
Centralization: Organizes tickets submitted via websites, apps, email, chat, phone, and social media in a single interface.
Ticket management: Customers and agents can update ticket categories, tags, statuses, view the progress, and mark tickets "resolved".
Automation: Automatically assigns or escalates tickets to agents or departments based on pre-set criteria.
Time tracking: Reports how much time agents spend on tickets for efficiency purposes, or to automate time-based billing.
Collaboration: Support agents can collaborate on tickets and add internal staff notes.
Integrations: Ticketing software can integrate with G Suite, Microsoft 365, CRM software, and a host of other applications via Zapier and a REST API.
Customer satisfaction ratings: Allows you to monitor and improve overall customer satisfaction.
Self-service knowledge base: Some ticketing systems integrate with self-service knowledge bases so customers can get instant answers without engaging an agent.
How Ticketing Software Works
Good ticketing solutions are flexible. You can set custom workflows and automations so the ticketing software does some of the work automatically and adapts to your needs and processes. Here's an example scenario that illustrates how software can streamline customer service:
Sally wants to know why her order hasn't arrived yet, so she sends an email to your support address.
The ticketing system recognizes it's a support request, automatically places it into a "support" queue, and assigns the ticket to the designated shipping support agent, Gary.
Sally receives an automatic reply to let her know Gary is investigating.
Gary receives the assigned ticket. He needs Sally's order number, so he replies through the ticketing software, which automatically sends a corresponding email to Sally.
Sally responds via email and Gary receives a notification.
Gary can't locate the order, so he escalates the ticket and invites a manager, Bruce, to assist.
Bruce gets the invite to the ticket and he can view all previous messages between Sally and Gary, so he's quickly up to speed.
Bruce tracks down Sally's missing order, adds expedited shipping for free, then responds to Sally and Gary via the ticketing software.
Sally receives Bruce's message via email and replies with a "Thank you!"
Bruce marks the ticket as "resolved".
In this example, Sally can interact with the customer service department via her preferred medium, email. At the same time, support agents Gary and Bruce can engage with Sally and each other via the centralized ticketing system.
While this is just one example, with ticketing software you can customize the entire process with pre-defined support queues, tags that categorize tickets for reporting, watchlists that notify agents when tickets are updated, and canned responses that can be pulled easily by customer service agents to use to reply to common questions.
When You Need a Ticketing System
Ticketing software can help organizations of all sizes across many different industries, including IT, e-commerce, education, healthcare, and growing businesses. Ticketing systems can be used for external clients and customers, or even for internal requests for departments like IT for when employees have a technical issue they need help with. You can benefit from a ticketing system if you:
Receive a high volume of support requests.
Offer specialized support via multiple departments.
Accept support requests from different channels, including email, phone, chat, and social media, and want to consolidate them on a single platform.
Need to keep support requests organized to avoid duplicate messages, especially if more than one agent handles support.
For larger companies with multiple employees in different locations that regularly need technical help with their computers, printers, or other hardware or software.
How to Choose the Best Ticketing System
In addition to the features already mentioned, several other factors will ensure that you are selecting the best ticketing system available for your company and that it provides the best access, security, integrations, and features. Here are some of the things you should look for when considering a ticketing system.
Data encryption: Ticketing software should protect customer and internal data with advanced SSL encryption.
HIPAA compliance: If you're in the healthcare industry, your ticketing solution should be HIPAA compliant.
Cloud access: Cloud ticketing systems let customers and agents access tickets anywhere they can get online
REST API: If your organization builds custom applications, the REST API allows you to integrate your ticketing system with bespoke solutions.
Automated ticket assignments: Round robin assignment equally distributes tickets among available agents, while load-balanced assignments ensure no agent is overwhelmed with too many tickets.
Dynamic ticket forms: Ticket form fields that display or hide depending on what the customer selects or inputs.
SLA monitoring: Service Level Agreements let you set customer service policies such as agent response deadlines. With SLA monitoring, you can remind agents and track key metrics.
User management: The ability to create and manage user profiles, user groups, and user access rights.
Branding: You want to give your customers a consistent experience, so look for ticketing software that allows you to add your logo and use a custom URL.
7 Hidden Benefits of a Ticketing System
Ticketing software simplifies customer support, but that's not the only reason to invest in a ticketing system. Here are seven additional benefits.
1. Omnichannel Support
Your ticketing software can convert support requests from various sources into tickets, including email, phone, chat, apps, and social media. For example, if a customer sends a support request via Facebook Messenger, your software will automatically add it as a new support ticket.
Ticketing systems can also consolidate support requests from multiple channels into single threads. If the same person who used Facebook Messenger switches to email, the system will associate the email with the original ticket. Alternatively, agents can merge multiple support tickets from the same person into a single ticket.
2. Valuable Context
Critical details get lost when customers communicate with different agents via different platforms. With helpdesk ticketing software, agents can view entire conversations across all channels, so they have the context they need to resolve issues fast.
Agents can also view a customer's support history, giving additional context, which leads to a better customer experience who won't need to explain their issues every time they engage with a new agent.
3. Increased Productivity & Reduced Burnout
Automation reduces the need for human intervention and improves overall efficiency. Load balanced ticket assignments ensure agents don't get overwhelmed and prevent a backlog of support requests. Round robin ticket assignments offer equal distribution and prevent agents from choosing only the tickets they want.
Third-party integrations automate tasks within popular apps such as Google Calendar, Slack, Asana, and Xero. That makes it easy to send feature requests to project management software, for example, or to send billable hours to accounting software.
Features such as categorization, tagging, collaboration, and workload management increase productivity so agents can resolve more tickets faster, without duplicating efforts.
4. Performance Tracking
Analytics such as time-tracking and customer ratings allow managers to monitor agent performance. If an agent isn't meeting expectations, you can intervene to improve response time and quality. These are valuable metrics you can use to gauge and enhance performance for individual agents and your entire customer service team.
5. Cost Savings
Ticketing systems empower agents to deliver faster resolutions. Since all communications are centralized, agents don't need to waste time tracking down emails or chat transcripts and can instead focus on solving problems. That translates into a lower cost per ticket.
Customers can even help themselves if your ticketing software integrates with a knowledge base, reducing the number of overall tickets and the time agents must devote to them. You can even tag common support requests to add to your knowledge base for ongoing process improvement.
6. Faster Responses and Resolutions
Faster response and resolutions, the ability to use preferred communications channels, and personalization create an improved customer experience. That, in turn, yields higher customer retention rates, better online reviews, and word-of-mouth advertising.
Customer satisfaction ratings and SLAs help keep your agents performing to company standards, ensuring customers are happy with the help they receive.
7. Internal Efficiency
Helpdesk ticketing systems aren't just for customer service. Many companies use internal ticketing systems dedicated to answering employee questions and training. Internal ticketing software streamlines employee onboarding and lessens the burden on managers who need to quickly field requests so they can focus on more complex issues.
Ticketing software simplifies customer support through centralization, management, and collaboration. Advanced features such as automation, time tracking, and third-party integrations unlock hidden benefits that improve the customer experience and enhance agent productivity.
The best ticketing systems are HIPAA-compliant and encrypt sensitive data, and they include reporting that allows you to monitor and improve agent performance. If you receive many support requests or need help organizing and assigning tickets, your organization can benefit from a ticketing system designed for swift resolutions and increased customer satisfaction at a lower cost per ticket.
Filed under: News