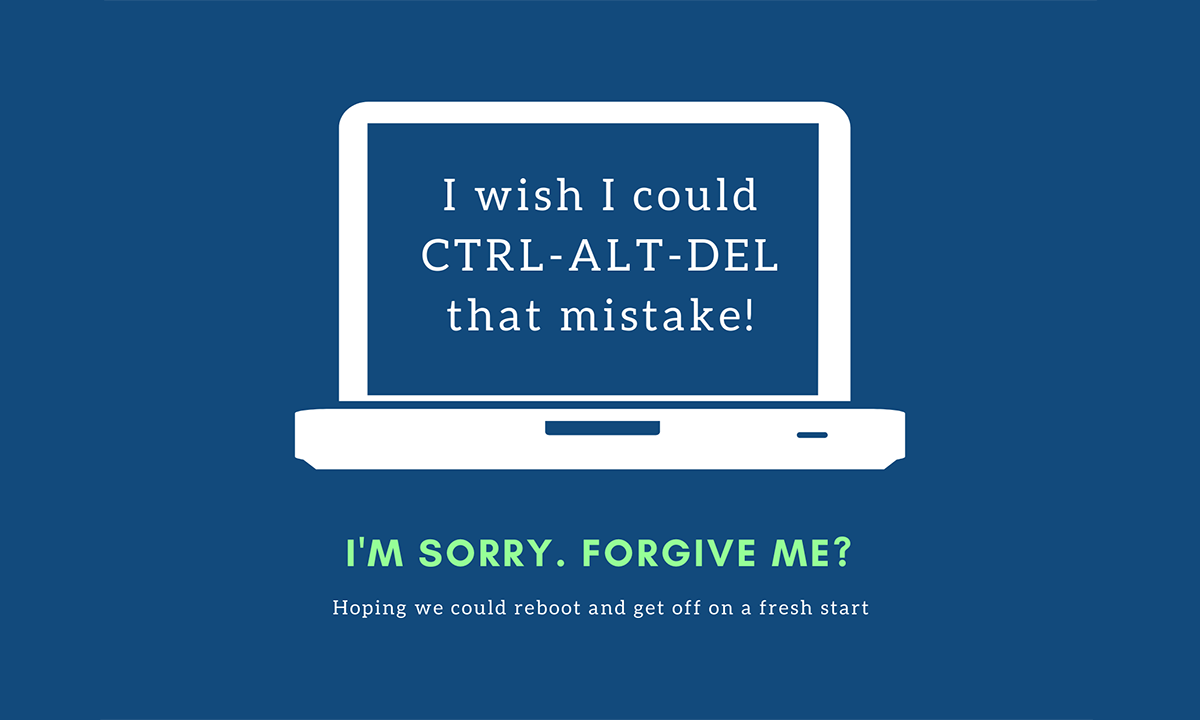 Sending an apology email or customer service message is a critical first step toward rectifying mistakes and restoring customer trust. In fact, researchers at the University of Nottingham found that customers are twice as likely to forgive companies that apologize versus offering cash. Every company wants to provide an exceptional customer experience every time, but the occasional mistake is unavoidable despite best efforts. This guide details how to write an apology email or customer service message that improves customer satisfaction and retention. 
When to Write an Apology Email or Customer Service Message
The simple answer as to when you should write an apology is any time a customer is frustrated or upset with your company, products, or services, no matter who's at fault. A customer-focused approach prioritizes customer satisfaction, not the bottom line, and pays dividends in terms of long-term brand loyalty and profitability. 
Good reasons to write an apology email include, but are not limited to:
Shipping delays or wrong deliveries
Addressing a customer by the wrong name
Billing errors
Poor or rude service
Defective or buggy products
Missed appointments or phone calls
Poor reviews
Companies should also proactively apologize for mistakes customers might not be aware of, including:
Security breaches
Software or service outages
Marketing mistakes
Public relations missteps
In terms of timing, it's best to send an apology as soon as a mistake is discovered. If it's going to take a while to resolve a problem, don't wait for a solution. Instead, send an apology email immediately and a follow-up once the issue is fixed. For example, suppose a company needs to send an apology email to a customer for wrong delivery. In that case, it could send an initial message to acknowledge the mistake, then a follow-up to let the customer know when to expect their product.
What to Include in an Effective Apology Email
Researchers at The Ohio State University and Eastern Kentucky University conducted a series of studies to determine what makes apologies effective. They found that the most compelling apologies include the following six elements. 
1. Expression of Regret
"Sorry" shouldn't seem like an empty or automatic statement. Express sincere regret for the mistake to reinforce the commitment to customer service.
2. An Explanation
Tell customers exactly what went wrong without deflecting blame to others. When customers understand why something happened, they're more likely to understand and exercise patience despite their frustrations.
3. Acceptance of Responsibility
Accepting responsibility is the most important element of an effective apology email. Companies should shoulder the blame for mistakes and let customers know they're dedicated to making things right.
4. Repentance
Companies should express regret and tell customers how they will prevent the mistake from happening again. This helps illustrate a brand's sincerity and willingness to adapt.
5. Offer of Repair
A good apology email should solve the customer's problem or at least present customers with options. If the solution isn't yet known, companies should explain that they're working toward a solution and will follow up once one is found.
6. Request for Forgiveness
Asking customers to forgive mistakes humanizes brands and can foster improved retention rates. Customers understand that no one is immune to mistakes, and they're more willing to give companies another chance if apology emails and customer service messages seem sincere.
Tips for Writing an Apology Email or Customer Service Message
Use these tips to write a convincing apology email or customer service apology message. 
1. Keep It Simple
Customers need to know that you accept responsibility for the problem and that you're going to solve it. Explanations are good, but customers don't need to be overwhelmed with the intricacies of a complex database failure.
2. Don't Make Excuses
Businesses aren't always at fault, but they shouldn't shift blame to others (even if deserved). For example, a credit card company might have erroneously flagged a payment as fraudulent and caused a subscription to lapse, or a shipping company might have mislabeled a customer's address. Rather than blame the shipping company, write an apology email to the customer to explain the wrong delivery and how it will be resolved.
3. Make It Right
Ultimately, an apology email should make things right for the customer. That could mean a new shipment, a refund, store credit, fixing a software bug, or anything else that ensures the customer receives the product or service they expected and paid for.
4. Use Empathy Statements
Empathy statements show customers you feel their pains and understand their frustrations. Effective empathy statements help defuse situations, put customers at ease, foster trust, and improve the overall customer experience. In fact, 67% of customers say an empathetic response is more important than an efficient resolution.
5. Personalize Responses
Show customers your business values them with personalized responses. Use their names, express their value to your company, and outline the impact their problem has on their goals. Apology emails shouldn't sound like canned responses, even if they are, so instruct agents to personalize apologies before they hit "send" in their ticketing software dashboards. 
6. Express Personality
Similarly, apology emails and customer service messages shouldn't seem robotic. Statements such as "we acknowledge your issue and are sorry you're experiencing it" come across as hollow, canned responses. Write in a conversational tone that expresses empathy and personality: "Oh no! I'm so sorry you're dealing with this, and I'm here to help." A bit of self-effacing humor can go a long way, provided it's appropriate for the situation.
7. Have a Sense of Urgency
Show your customers you know how important it is to resolve their problems fast with statements such as "I'm looking at this right now" and "We're going to fix this right away." A well-written apology email tells customers what they should expect next.
8. Rebuild Trust
Ask customers for a second chance to demonstrate the company's commitment to their success. Explain the steps you're taking to avoid the same problem in the future and, if appropriate, extend an offer that encourages customers to stay with your company after the problem gets resolved.
9. Thank Customers
Saying sorry and asking for forgiveness are two important parts of an apology email. So is thanking customers for their patience and understanding, which reinforces the idea that you know the situation has inconvenienced customers and they're good people for granting the opportunity to fix it.
10. Ask What Else You Can Do
Ask customers if there is anything else the company can do to improve their experience, before and after the problem is solved. For example, "I'm working on this right now and should have it fixed within the hour. In the meantime, do you have any questions or if there is anything else I can do to help?" It's also a good idea to ask customers to rate their support to inform future interactions, a feature baked into some of the best helpdesk software. 
10 Apology Email and Customer Service Message Examples
Use these sample templates to write effective apology emails or customer service messages, and to get your own apology email ideas. 
1. We Made a Mistake
Dear John,
I'm so sorry that you have to deal with this! You're right, our sign-up page does say that feature is included in the Basic Plan. Last year, we moved it to our Premium Plan and forgot to remove it from the Basic Plan sign-up page. 
I know that feature is an important reason you purchased our service, so I've upgraded your account to our Premium Plan. You can enjoy the upgrade free of charge for life. We're also going to update our sign-up page right away, so this doesn't happen to anyone else.
Again, I sincerely apologize for the inconvenience and hope you're willing to forgive us.
Thank you for your patience and understanding, and please let me know if there is anything else I can do to help.
2. We Are Working on a Solution
Dear Jane,
Oh no! Please accept my apologies – I'd be super frustrated if that happened to me. I just talked to our IT supervisor and he said it's a problem with our database. He assured me he's working on a solution right now, and we should have this fixed by the end of the day. 
We're dedicated to exceptional service, so it's disappointing to know we let you down today. Thank you for bringing it to our attention so we can get you back up and running as soon as possible. 
In the meantime, do you have any questions or is there anything else I can do to help?
3. Wrong Delivery
Hi Jack,
Thank you for reaching out. I just checked, and unfortunately, it looks like your shipping label was addressed incorrectly and your package was delivered to the wrong address. I'm so sorry about that!
We know you rely on our guaranteed two-day shipping, so I'm incredibly disappointed that we failed to deliver on our promise. I'm going to find out exactly what happened, so you don't have to deal with this again.
In the meantime, I've already shipped a replacement overnight. Please let me know if it hasn't arrived by noon tomorrow. You can track it here: (link).
I know that doesn't make up for the mistake, but I'd love another chance to earn your trust. I've gone ahead and applied a free shipping discount to your next order just in case. 
Please let me know if this will help you get back on track or if I can do anything else to help. I truly appreciate your patience and understanding.
4. Security Breach
Dear Joan,
Yesterday, hackers targeted our servers with a brute force attack. We took immediate action and were able to block the attack within 15 minutes. Unfortunately, however, some of your data was exposed to the Dark Web within that short span, including your username, name, and email address. Fortunately, your password was encrypted, and the hackers did not gain access to your credit cards or billing information.
I sincerely apologize for the data breach. We take your privacy very seriously, and we're committed to implementing robust security measures to ensure this doesn't happen again. Effective immediately, we have upgraded our servers to 256-bit encryption and implemented multi-factor authentication (you should receive a separate email to set yours up).
I'd also like to offer you 12 months of complimentary identity theft protection and credit monitoring. You can enroll here: (link).
Trust is critical in our industry, and I hope you're willing to give us the chance to regain your trust as we improve our digital security. Please let me know if you have any questions and if there is anything I can do to help. You can also read more about the security breach on our status page. 
Thank you for your patience and understanding, and please rest assured that your data security has always been our top priority, and will continue to be so moving forward.
5. Service Outage
Dear George,
Please accept my apologies for yesterday's service outage. High winds knocked out power lines at around 2 p.m. We immediately dispatched our service technicians, and they were able to restore power for all customers by 5 p.m.
I know that the three hours without service could have had an enormous impact on your business, so I want you to know that our technicians are installing new wind-resistant lines throughout your area. The rollout will take around three months to complete, and I appreciate your patience and understanding while we upgrade the system. 
Thank you for your patience while we work to deliver the best possible service, and please reach out at any time with questions or concerns.
6. Wrong Name
Hi Joe,
I wanted to respond to you right away and mistakenly used another client's name in my response. I'm so sorry about that!
I pride myself on knowing my clients and their goals, so I'm incredibly embarrassed about my mix-up. I can assure you it won't happen again. Hopefully, you can forgive me?
7. Marketing Mistake
Hi June,
Our mistake! We posted the wrong coupon link in our last email, so if you tried it, it didn't work. Can you forgive us? 
If so, we'd like to extend an extra 10% off the original 20% off coupon, for a total of 30% off if you order by Friday. Here's the (correct) link: (link).
Please accept our sincere apologies. The last thing we want to do is waste your time – we want you to shine!
8. Billing Mistake
Dear Jason,
I'm reaching out because we recently discovered that our payment processing system had been double billing you for three months. I'm very sorry for the oversight, and to help make it right, I've already refunded the $300 difference to your card and extended your service an additional three months, free of charge.
Exceptional service at a fair price is our #1 priority, and we're investigating exactly why this happened, so you're never overcharged again.
In the meantime, please let me know if you have any questions or if you're willing to discuss what we can do to regain your trust.
9. Poor or Rude Service
Hi Jill,
I am very sorry and severely disappointed to hear about how you were treated by a member of our company. I absolutely understand why you are upset, and that is not the standard we set for our support team. Please accept my sincerest apologies.
I want you to know that we are addressing the situation with our team. We are also launching training initiatives to reinforce our standard of fairness and respect, so you never have to worry about rude or poor service again. 
I know this doesn't make up for your experience, and I understand if you want to move on. However, if you're willing to give us another chance, I'd like to offer you a significant discount on your next order.
Again, I'm very sorry and disappointed that you had to deal with this. Customer service is our top priority, and we dropped the ball. Please let me know if there is anything else I can do to make this right for you.
10. Review Response
Hi Gisele,
I'm reaching out because I saw your review on Facebook the other day and I want to apologize. I'm very sorry our product didn't meet your expectations, and if you're willing, I'd like a chance to make it right. 
Your review stated the product didn't work. Can you tell me a little more about what it was doing? If it was defective, I'd be happy to send you a new one or issue a refund.
Thank you for your feedback, and I hope I can offer a solution that restores your faith in our company.
Every company wants to provide an exceptional customer experience every time, but no company is immune to the occasional mistake. Writing an apology email or customer service message is the first step toward restoring customer confidence no matter the situation: wrong delivery, billing error, service outage, or security breach.
It's not difficult to write an effective apology email, but it is vital to send the right message. Express regret, explain what happened, accept responsibility, show repentance, offer a solution, and ask for forgiveness. Use empathy statements to show customers caring and understanding, and avoid casting blame and making excuses.
Personalize apology emails so customers feel treated like humans, not tickets, and tailor canned responses in ticketing software before hitting "send." Write an apology email or customer service message that addresses customer concerns and emotions, and it's easier to rectify mistakes, restore trust and earn long-term customer loyalty.
Filed under: Customer service