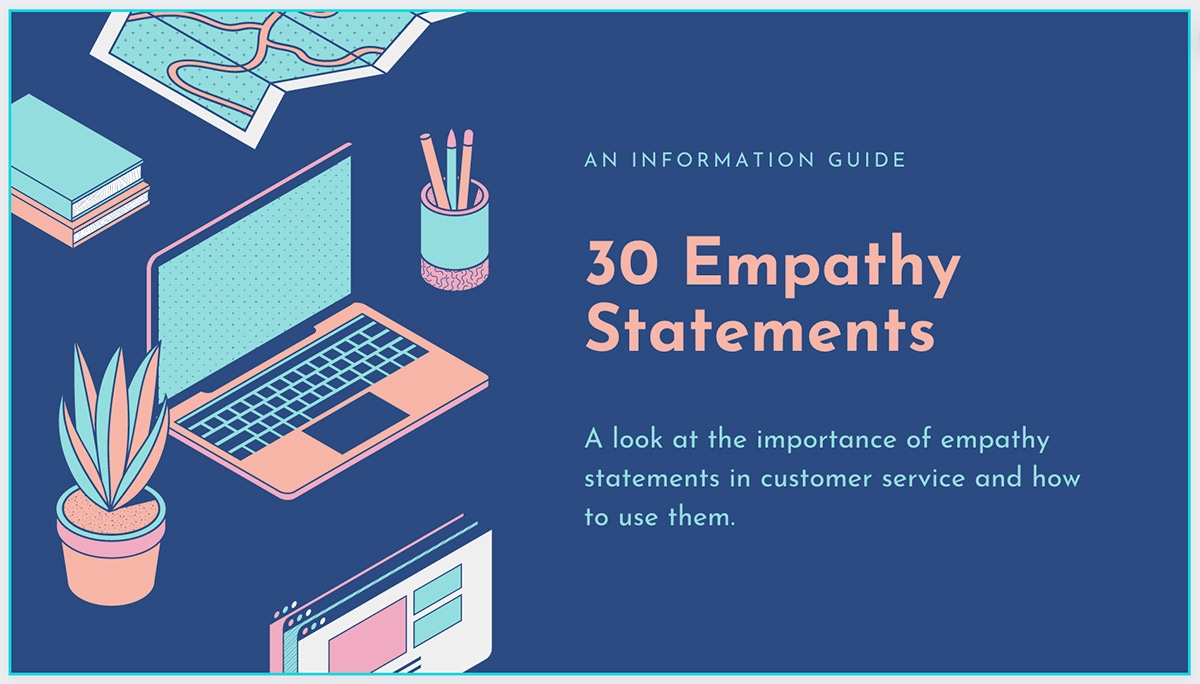 Empathy statements and your ability to use them effectively will significantly impact the customer service team's success. However, expressing genuine empathy is increasingly difficult in a digital world, where 64% of U.S. consumers say companies have lost touch with the human element of the customer experience.
Customer service has shifted from phone calls to email, chatbots, and helpdesk ticket software as customers prefer going online to waiting on hold. Even though modern platforms are easier, preferred by customers, and arguably are able to provide superior support, they're devoid of tonal inflections that convey unspoken empathy during voice calls.
Empathy statements are one important way to humanize text-based customer service because support agents can deliver solutions while evoking positive sentiments around your brand. Here's why you need empathy statements, how to use them effectively, and 30 examples you can start using today.
Why You Need Empathy Statements
Empathy statements offer your organization multiple benefits, including improved customer service, increased efficiency, and stronger brand loyalty.
1. Improved Customer Service
Empathy statements are phrases that show agents care about, understand, and relate to the customer's issue. They reinforce the idea that you're committed to finding a satisfactory resolution. Most importantly, empathy statements demonstrate that agents feel the customer's pain and genuinely want to help.
Good empathy statements forge a human connection, alleviate stress, and inspire confidence in your brand. When customers feel you're genuinely trying to help, they're more receptive to the support representative's recommendations and willing to collaborate on a solution rather than overreact or cast blame. Empathy statements can even defuse tense situations before they escalate.
Sixty-seven percent of consumers say an empathetic response is more important than an efficient resolution, underscoring the importance of empathy statements for customer service. Customers who feel they've received outstanding support are also more likely to tell their peers of their positive experience and less likely to leave negative reviews.
2. Empathy Increases Efficiency
Empathy helps customer support agents cut through the noise, identify what customers need, and then influence the desired outcome. That, in turn, facilitates swift resolutions and enables agents to handle more support requests faster, leading to increased productivity and decreased wait times. Short wait times and quick support lend to a better experience, a hallmark of modern business success. Consider that an overwhelming majority of 86% of customers surveyed are willing to pay more for a great customer experience.
3. Empathy Boosts Profitability
It's no secret that satisfied customers are crucial to success, but it's worth noting that the most empathetic companies tend to be among the most profitable. In fact, the top ten companies on the Global Empathy Index yield 50% greater net income per employee than the bottom ten. That list is composed of corporate stalwarts such as Facebook, Netflix, and Microsoft.
How to Use Empathy Statements + 30 Examples for Customer Service
These tips can help you weave empathy into support conversations.
Welcome Customers and Let Them Know You're Here to Help
An empathetic greeting puts customers at ease and sets the tone.
"Hi [Name], thank you for reaching out! Here's how I can help."
"Thank you for bringing this to my attention. We can fix this today."
"I'm sorry you're dealing with this, [Name]."
"Hey [Name]! Thanks for your message. I'm on it!"
Listen to Your Customers
Make it clear you've heard the problem and that you're committed to helping.
"I totally understand what you're dealing with, and I'd love to help you with this."
"You've been with us a long time. Let me take a closer look at your account."
"I've had this same issue. Here's what worked for me."
If Needed, Defuse the Situation
Understand that customers might be upset, even hostile, especially if they've struggled to get support until now. Use empathy to refocus their energy on resolution.
"You're right, you shouldn't be experiencing that. I'm here to help."
"I'd be upset about this, too."
"This is unacceptable. Here's what I'm going to do."
Wear Your Customers' Shoes
Show your customers you know how they feel and that you can relate to their problems. 
"I'd feel the same way if this happened to me."
"I understand why you feel that way."
"Yes, that concerns me. Let me check on it right now."
Fully Understand the Problem
Ask follow-up questions for clarification and recap what customers say to ensure you're giving the best solution.
"If I've understood you correctly, you're having trouble with…"
"Just so I'm on the same page, the problem is…"
"Do you mind if I ask a few more questions?"
Reassure Your Customers
Promising a solution is a simple yet powerful way to grant relief.
"We'll get it fixed right now"
"No problem! We'll get you set up in no time"
"That's a great question! I'll have an answer for you in just a second"
Tell Customers What to Expect
Some problems have instant solutions; others do not. If a customer must wait, apologize and explain why. Let them know what's next and when they'll hear back.
"I just spoke to a specialist, and they said they'd have this resolved within the next 24 hours. I'll update the ticket and email you as soon as it's done"
"It usually takes about a week to track down missing items, but I'm going to go ahead and overnight a replacement so you don't have to wait any longer"
"I'm very sorry about this, but it's taking longer than expected. The good news is I'll have a solution within the next 30 minutes. Can I contact you then?"
"I'm currently discussing the issue with our tech specialist"
Follow Through
Deliver on your promises. Here, empathy comes in the form of confirming customers understand the solution.
"I found the problem and took care of it for you. Here's what happened…"
"Have you seen our guide? It has step-by-step instructions. Of course, I'm happy to help you here as well."
"I think 'Widget X' would be a better fit for you because…"
Express Appreciation and Confirm Satisfaction
Confirm customers are satisfied with the outcome, thank them for their time and invite them to reach out if they experience additional issues.
"Thank you for your patience"
"Can you confirm the issue is resolved? I want to make sure you're all set!"
"I'm just following up to make sure I was able to resolve the problem. Is there anything else I can help with?
"Thanks again for telling me about this issue. I'm glad I was able to help. Is there anything else we can improve?"
Be Authentic
Empathy statements shouldn't seem forced and customers shouldn't feel like they're getting lip service. Insincerity has the opposite of the intended effect. Keep empathy statements within context, avoid overusing emojis, and never lie. Grant customers the same honesty and respect you'd like to receive and they will appreciate you for it.
Empathy is an important attribute that will lead to customer service success, yet expressing empathy via text-based channels can prove challenging. That's one reason why many organizations invest in empathy training. Your company may not need to make this investment at this time, but it's a good idea to show your team how they can use empathy statements to improve their performance and your organization's reputation. A few meaningful words go a long way. Whether you offer support via email, chat, or helpdesk ticket software, you can add an empathetic touch to improve customer service, increase efficiency and even bolster profits.
Filed under: Customer service