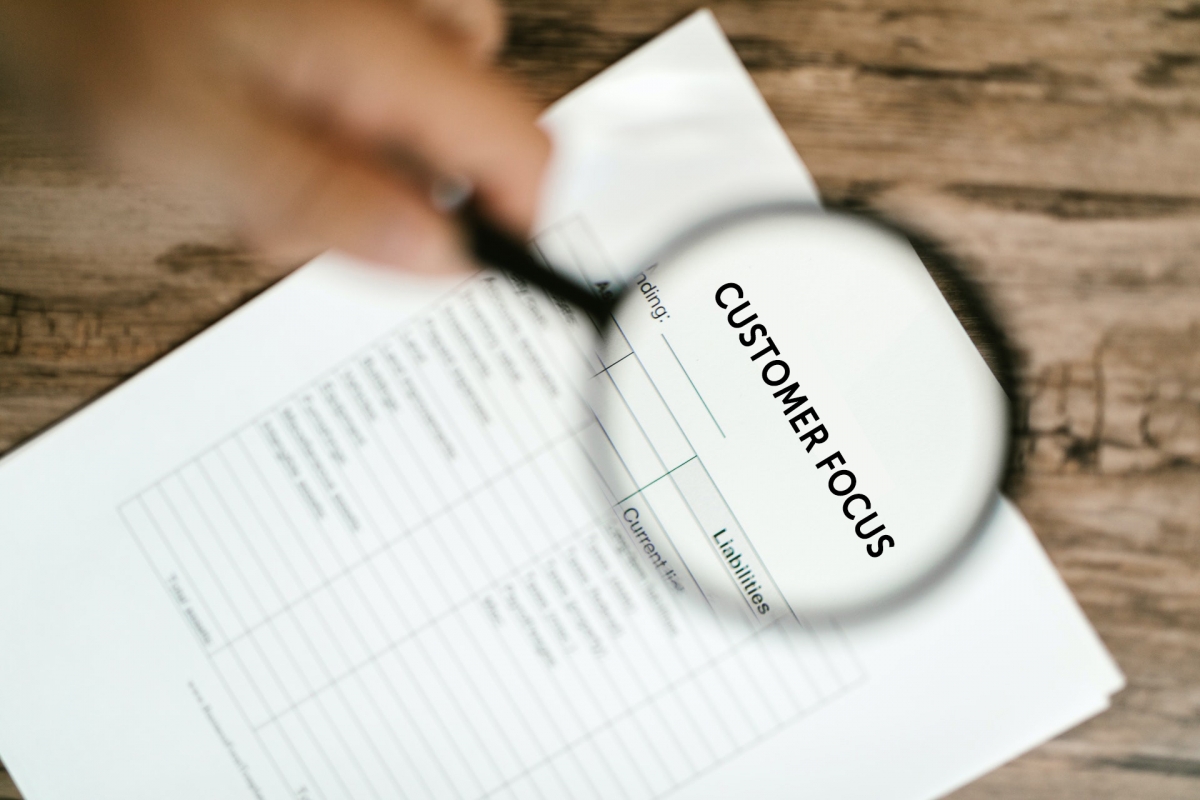 When a company makes their customer focus a top priority it means that they are focussing on each interaction with the customer, and how it impacts the customer, instead of how it helps the business or the bottom line. Seventy-three percent of consumers say customer experience influences brand loyalty, so it's not surprising that customer-focused businesses outperform their peers by 80%. That's a compelling reason why companies have moved in droves to prioritize customer focus over all else. This guide details what customer focus means and how it can benefit your business, plus lists ten tips to improve your customer focus. 
Customer Focus Means Prioritizing Customer Success
Customer-focused companies strive to understand what customers need and the best way to deliver it. It's not simply providing good customer service. Rather, customer focus is a value that permeates every department and level of your company. It's ingrained in company culture so that decisions are made in the interest of customer experience and not just the company's interests.
Benefits of Customer Focus
Customer-focused businesses enjoy significant competitive advantages, including:
Customer Loyalty
Customer focus helps you build relationships with loyal customers who return to your business and sing praises to their peers.
In fact, 73% of consumers say customer experience is a top factor in whether they decide to buy from a company. Just as telling, 59% of customers say they'll stop doing business with a company after multiple poor experiences, and 17% say they'll move on after a single bad experience.
At the same time, 77% of customers say they will recommend a business to a friend if they've had a positive experience.  Customer retention is only part of the equation. Customer-focused businesses that identify with their customers also enjoy stronger branding, establish solidarity with their audiences and reap the rewards of long-term loyalty. 
Operational Efficiency
The better you understand your customers, the better you can serve them, and better service often leads to improved efficiency. For example, a financial SaaS company might invest significant resources into developing two features of its financial software: one for personal finances, another for business finances. After getting customer feedback, the company might discover that 90% of its customers are businesses, and only 10% of customers use the software for personal finance. 
Based on that insight, the company could remove the personal finance feature, save on development costs, market more effectively with better targeting, and ultimately serve its customers better by focusing on the features they want. That kind of customer focus reduces costs, increases revenues, and makes companies more efficient.
Increased Profits
84% percent of companies that work to improve their customer experience see increased revenues. Customers are more likely to buy if they have a great experience, and you'll enjoy repeat business which has a cheaper acquisition cost and results in greater profitability. 
Harvard Business Review recounts the Royal Bank of Canada's (RBC) quest for customer focus. The bank invested in customer convenience with extended banking hours, new services, and more ATMs, but found that those features didn't persuade customers. Instead, customers wanted to feel that their bank cared about them. 
RBC listened and changed its focus to serving customer needs. Among other impressive results, that shift in focus drove a 35% increase in high-margin purchases over four years.
Being customer-focused means putting your customers first, bringing the ultimate benefit of increased profits for your business.
10 Customer Focus Tips
Use these tips to improve your customer focus.
1. Define Customer Happiness
Encourage feedback to understand your customer better, what problems they need to be solved, and what success looks like for them. In other words, define what makes your customers happy.
There are a lot of ways to learn more about your customers. You can:
Conduct surveys
Speak with customers directly
Ask support agents for insight
Study online reviews
Provide feedback opportunities
In a straightforward example, your knowledge base or ticketing software can allow customers to rate support. You can then address knowledge base articles or support agents that consistently get poor ratings.
Don't make the mistake of basing your decisions on market research collected during the startup phase. You have real, paying customers who might have different expectations and needs than your original research suggested. Their insight is the most valuable you can collect.
Metrics such as Customer Satisfaction Scores (CSAT), Net Promoter Score (NPS), Lifetime Value (LTV), and Churn Rate are important, but they don't tell the whole story. Work to understand what makes your customers happy, deliver that experience, and those numbers will take care of themselves.
2. Segment Customers to Anticipate Their Needs
Part of understanding your customers is dividing them into well-defined segments that allow you to anticipate their needs.
VRBO, for example, has two distinct customer segments: people who want to earn money from vacation homes and people who want to rent vacation homes. Happiness doesn't mean the same to both customer types, so VRBO has completely different online dashboards for each segment. The traveler's dashboard features their upcoming stays and payment information. The owner's dashboard has complete booking calendars plus additional tools to list, promote, and analyze properties.
VRBO uses customer focus to segment customers and anticipates their needs. Another example is an online knowledge base filled with helpful articles that answer frequently asked questions: know what your customers need before they ask.
Customer focus means you need to define, understand, and cater to each customer segment to deliver the best experience for all customers.
3. Meet Customers on Their Terms
Be accessible to your customers. Don't make customers jump through hoops to access sales, support, or anyone else they need to reach. Don't require customers to call to get live help, and don't hide behind multi-option, confusing phone systems.
Instead, meet customers on their terms. Offering various channels for your customers to communicate with your company is one example. Customers can open a support ticket via the software, or they can open a ticket via email, or an instant message on social media. Agents can view support histories and offer personalized support based on their past and current situations.
Customer focus means making it easy and convenient for customers to interact with your company via their preferred channels, not forcing them to use your system.
4. Make Customer Focus a Part of the Company's Culture
Outstanding customer focus is not the same as exceptional customer service. Customer focus should transcend departments and permeate your entire company.
Employees and departments should collaborate toward processes and solutions that make customers happy. For example, if an agent doesn't know how to resolve a support ticket, they can escalate it to a manager or assign it to another department. Rather than resent the additional workload, the new agent should help find a solution.
Customer focus means decentralizing customer service so that each employee knows what customers need. Some businesses invest in ongoing training to ensure customer focus remains core to company culture.
5. Invest in Your Employees
Great employees are more likely to deliver a fantastic customer experience. They understand customer-centric service and how that influences their performance and, ultimately, their job.
That doesn't mean you should expect employees to understand customer focus right out of the gate. Invest in an intelligent hiring process, yes, but also in employee training, wellbeing and success. You might consider incentives based on customer-focused performance or an attractive wage to recruit top talent.
6. Make Customer-Focused Decisions
Make customer focus foundational to your decision-making process. Always ask how each decision impacts the customer and how you can improve that experience. Identify what you don't know, then ask customers to help. For example, let's say you're considering a product design change based on customer feedback. You know what unhappy customers have to say, but you might not know how happy customers feel about the proposed changes. You might learn you have two segments and need two products to serve both.
When decisions are predicated on customer satisfaction, you can avoid costly mistakes and identify new opportunities to meet customer needs and grow your business.
7. Be a Customer-Focused Leader
Practice what you preach, whether you're the CEO, president, manager, or serve in another leadership role. Your employees look to you for guidance, and they'll follow your lead. Take time to interact with customers. Consistently remind staff about the importance of customer focus. Ask how decisions affect your customers. Make it clear that the customer experience is your top priority, and your team will follow suit.
8. Know How to Solve Problems
It's no secret that customers want fast and convenient resolutions to their problems, but you also need to know what outcomes customers expect. For example, if customers expect to obtain a simple answer to a simple question at any time, night, or day, then a knowledge base would meet this expectation and solve this problem. Customers might expect video walk-throughs or links to resources, and if so, the onus is on you to meet those expectations.
If you use ticketing software, some customers might expect simple answers to their questions, while others might expect your agents to complete actions on their behalf. Strive to understand how customers expect problems to be solved so you can cater to their requests.
9. Get Creative with Customer Focus
Routinely consider new ways to leverage customer focus into an improved experience. For example, you might host a customer focus group to test a new beta product or grant customers early access to your SaaS in return for feedback. You could sweeten the deal with a monetary payment, a free meal, or a gift card.
Getting creative isn't limited to learning insights. Identify ways to bring customers joy and make your brand enduring. For example, you might surprise a good customer with free overnight shipping, access to a premium software feature, or an extra service to thank them for their loyalty.
10. Develop and Document a Formal Customer Focus Strategy
Develop and document a formal customer focus strategy. Your documentation might include:
Customer feedback and reporting processes.
Regular meetings to review and revise the customer experience.
Customer-centric questions that must be answered before decisions are made.
Guidelines for each customer touchpoint.
Customer focus shouldn't be an empty promise or marketing-speak you publish on your website. It should be part of your core culture, informing company policies and strategies at every turn.
Customer Focus Examples
Here are a few examples of customer focus for added context and inspiration. 
Continental Airlines
Continental Airlines discovered that its arbitrary delayed flight voucher process resulted in low-value customers receiving the highest compensation. The company saved millions by altering its delayed flight voucher policy so that each customer received the same compensation for delayed flights. 
McDonald's
McDonald's Europe found that its customers weren't receptive to its restaurants' bright-colored, childish décor and really hated having to wait in line for "fast food". The company took that feedback and hired a well-known design team to give its dining rooms a facelift, including self-service kiosks, and customers rewarded McDonald's with a $2.2 billion increase in sales over two years.
Netflix
Netflix invested significantly in their recommendation engine which helps customers find movies and TV shows based on their preferences. In addition, the streaming service allows families to create multiple profiles that keep recommendations personalized for each individual. As of 2016, Netflix believed its combination of personalization and recommendations saved the company more than $1 billion annually.
Customer focus is about prioritizing customer happiness. It's a deliberate, ongoing, and documented effort to deliver the best possible experience and help your customers succeed. Taking steps such as anticipating customer needs, meeting customers on their terms, and making customer-focused decisions is critical to business growth. Become a company-centric leader and make customer focus part of your entire company's culture, and you can reap the rewards of customer loyalty, improved operational efficiency, and increased profits.
Filed under: Customer service